BORNEO RAINFOREST TREKKING
Explore the stunning primary rainforest of Sabah
Your Borneo rainforest trekking holiday is a short expedition into the wonderful forest of Tawau Hills in East Sabah. It has an abundance of flora and fauna. There are tropical birds such as hornbills. And native primates like the red leaf monkey. Small predators such as the civet cat also roam these forests.  You will be accompanied by expert local naturalists who know this park well.
Tawau Hills is a favourite among hikers for endurance training.  So, be prepared for morning walks. Moreover, for the evening hikes, you will see a variety of nocturnal animals. Have your torch at the ready! You may spot a variety of snakes and frogs. The hot spring and Galas Waterfall are the other attractions of this beautiful park.
There are three challenging hills to climb: Mount Maria (1083 metres), Mount Lucia ( 1202 metres) and Magdalena (1310 metres).
Our prices are in MYR Malaysian Ringgit. Please use the Currency Converter to calculate in your own currency at the daily rate.
" The team is extremely knowledgeable and we learnt a lot. They are both excellent at finding wildlife, particularly birds. They taught us much about the rain forest "
Karen, from the U.K.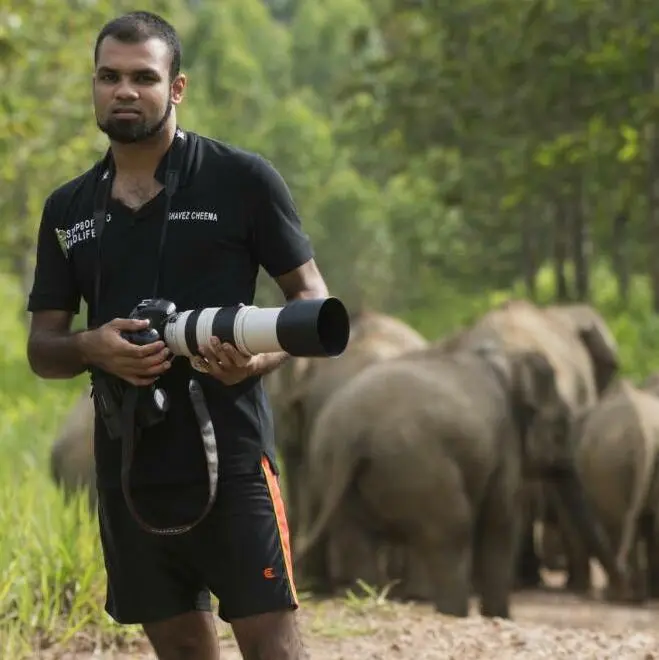 Our guides are respected local conservationists and carry out animal rescue work for their own wildlife NGO. Over the years, they have released more than 100 animals: leopards, pangolins, snakes and other species. You will find them educational and sensitive to your needs, to make your Borneo rainforest trekking holiday an unforgettable experience.
WITH MOUNTAIN CLIMB EXTENSION: Day 3 & 4:
The climb to Mount Lucia will give an extra thrill to your jungle visit. The trail up to the summit is a 10.5 km ascent. The chalet huts are located just below the summit. During your climb, you may be able to watch Wreathed and Helmeted Hornbills. Especially the endangered Helmeted Hornbill has an incredible song, more like a haunting laugh that will stay with you forever.
Other animals you may see and hear are civet cats and gibbons with their wonderful harmonious song. So, plenty of magnificent photo opportunities. If you are lucky, there will be troupes of red leaf monkeys and the elusive Colugo, the flying lemur (see image)
After your descent from the mountain, your last day will be spent packing up and getting ready for the transport back to town or the airport.
COST OF TRIP
for 3 days/ 2 nights
For Mountain Climb – 4 days/3 nights
RM 1,250  per person
FAQ Frequently Asked Questions
Food is one of the biggest attractions. The cuisines of Malaysia, Indonesia, and Singapore are closely linked by a mix of delicious Malay, Chinese and Indian cooking. Staple foods include rice and noodles, both in an amazing variety. For example, Congee (rice porridge), Bi Hoon (rice vermicelli), or Mee Goreng (fried noodles). Bread, in Western, Indian, or Chinese style, is also quite common. Normally, these staples will be accompanied by either chicken or fish. Other types of meat are more restricted due to ethnic and religious traditions. So, most meat is clearly labelled as halal or non-halal to comply with the Islamic religion.
Reassuringly, coffee and tea are widely available. They are generally served in a local style such as Teh Tarik (frothy sweet tea with condensed milk) or Kopi (strong coffee with milk and sugar). However, alcoholic drinks are not traditionally served at mealtime. Beer and other alcoholic drinks can be found in western-style hotels and restaurants.
On remote trips, such as island trips or jungle trekking, the food will be limited to basics such as rice and vegetables with either chicken or tofu. Breakfast may have a Western or local option.
Sure, we welcome anyone with a plant-based diet. Moreover, we can also assist if you have other food requirements. Please tell us in advance when you make your booking. There is a 'dietary requirements' section on our online booking form.
HOW TO BOOK