Experience Sumatra's wilderness in an eco-friendly way
This is one of the few places to see orangutans in the wild! You can spot these endangered animals in the area around Bukit Lawang, a riverside village on the edge of the Gunung Leuser National Park. Luckily, it is easily accessible from Medan, around 95 km away. This is truly a biodiversity hotspot. One of the last places on earth where tigers, rhinos and elephants roam.
Our Sumatra Orangutan Trek is ethical with prices set by the local guide association. Importantly, we practice RESPONSIBLE wildlife watching. You have flexibility by choosing from a 1/2 day Sumatra Orangutan Trek or longer trips from 1 to 4 days.
Our Sumatra Orangutan Trek operates every day of the year.
Our guides are experienced members of the Guiding Association and are English speaking. They will look after you well: Before your trek, you will get a full briefing as preparation. They will meet you at your guest house on the day. After your trek, they will safely return you to your accommodation. Or they can book onward transport and tours to other awesome Sumatra destinations for you.
SUMATRA ORANGUTAN TREK – ITINERARY FOR 2 to 4 DAYS
Pick-up from Medan airport 
Fitness Level: Average to High
Activity: Jungle Trekking & Tubing, Wildlife watching
BUKIT LAWANG. This is the site of a former orangutan rehabilitation centre. In 1996, the centre could no longer accommodate new arrivals and had to close down. For conservation reasons, the apes from the centre were not allowed to re-integrate with wild populations of orangutans due to the possible risk of disease. Ever since then, these ex-captives and their offspring have lived in semi-wild conditions in the Bukit Lawang area.
TANGKAHAN is a serene haven in the jungle, located next to the Kualsa Buluh river. This area was known for logging and poaching in the past. Fortunately, the local community managed to transform it with the help of FFI (Flora and Fauna Internationa). Forest ranger groups were set up to patrol for illegal poaching. The logging activities were stopped. Since 2001, Tangkahan has developed into a peaceful, sustainable eco-tourism retreat. There is a group of 7 elephants that are working with the ranger patrols to combat the illegal loggers and poachers. You can support this worthwhile local initiative by joining the elephants for bathing.
We offer FLEXIBLE ITINERARIES for ORANGUTAN and ELEPHANT adventures.
Here is an example:
DAY 1:  Meet and greet at Medan Kuala Namu airport or nearby location. Transfer to Bukit Lawang ( 4 hours). If time allows, you can visit the bat cave on the Landark river walk. You will stay at the  Wisma Leuser Sibayak Guest House in Bukit Lawang.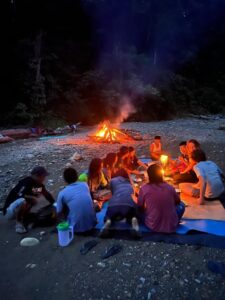 DAY 2: You will start after breakfast and head to Gunung Leuser National Park. Your trek will include orangutan spotting and overnight camping. Your jungle camp will be along the river (lunch and dinner provided)
DAY 3: After breakfast in the jungle, travel (mostly by dirt road) to Tangkahan. You will be able to join the elephants for their bathing in the afternoon. Lunch, dinner and accommodation at the Tangkahan.
DAY 4: Check out from your guesthouse after breakfast. Transfer to Medan airport or nearby accommodation.
TRIP EXTENSIONS:
You can extend your trip with a range of options:
White Water Rafting and jungle picnic at waterfall
Gelugur Hot Springs and Waterfall day trip with lunch
Indonesian market visit and cooking class
and many more activities. Please ask us when making your booking
COST OF TRIP
Full day: US$ 65.-
2 days: US$ 110.-
3 days: US$ 145.-
per person
HOW TO BOOK