KEY FACTS

Population Trend: Decreasing ↓
IUCN Status: Endangered
around 2,100 – 3,100 individuals left in the wild
Scientific name: Elephas maximus
Size: upto 2.7m (height), up to 6.5m (length)
Found in: Peninsular Malaysia and East Malaysia
Habitat: Grasslands, dense tropical evergreen forest, dry and wet deciduous forest and shrub lands
Diet: Grass, bark, roots, leaves and the stems of trees and shrubs
Average number of calf: one (every 4 years)
Average Life-expectancy in the wild: up to 60 years
DESCRIPTION
The Asian elephant – revered for centuries as a cultural and religion icon – is the only living species of the genus Elephas found in Asia. Moreover, the Borneo elephant, or the Borneo pygmy elephant, is a subspecies of Asian elephant that is found in northeastern Borneo, Indonesia and Malaysia. Although Asian elephants are not quite as big as their African cousins, they are still the largest living land animal in Asia. They are easily distinguished by their smaller, rounded ears.
Female elephants usually can be observed in herds with their female relatives. In contrast, the males prefer to live alone, but sometimes, they can form coalition with other males. The Asian elephants are highly intelligent animals, displaying a wide array of social behaviours including compassion, mimicry, grief, altruism, and self-awareness. Their most unique feature: the trunk is actually composed of the nose and upper lip. Moreover, it contains over 40,000 different muscles and has several uses: smelling the faintest scent, breathing, communicating with other individuals, drinking, pushing trees to grab food, and as a defense.
Historically, Asian elephants once roamed across most of Asia, and were found in large numbers throughout the Malay Peninsula. However, over the past 100 years, rainforests have been cut down and cleared for human development leading to decline in the wild elephant population and a considerable rise in human-elephant conflict. Today, around 2,100 – 3,100 individuals are left in the wild. Current threats to wild Asian elephant populations include habitat loss and degradation and illegal wildlife trafficking.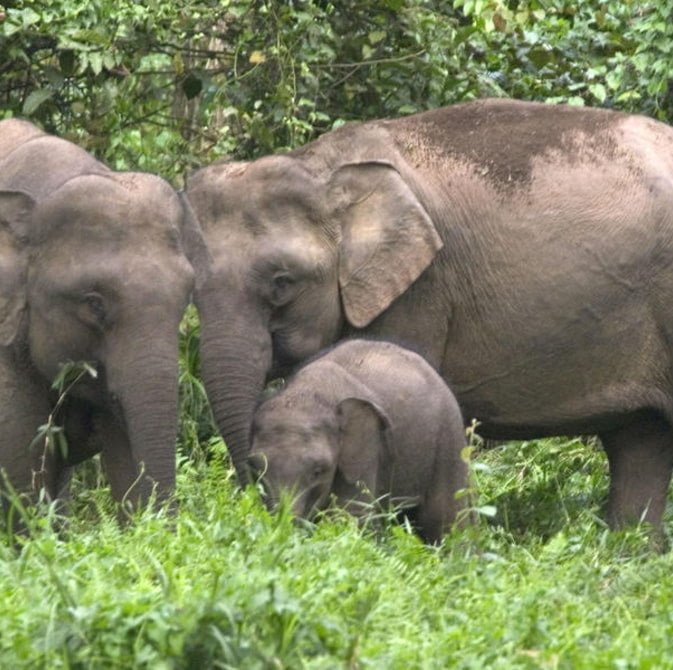 WILD ELEPHANT SAFARI IN MALAYSIA
WILDLIFE WATCHING

Travel to the depths of the tropical rainforest to encounter the herds of wild Asian elephants that roam in the jungle.You will be in the company of an outstanding guide and conservationist and staying at a remote ecolodge, nestled among the high trees on the bank of a river.

INTERNSHIPS
We offer a wide range of internships for young graduates and budding conservationists. Practically, these allow you to gain valuable work experience and CV skills. Our project locations are generally in the tropical rainforest or on paradise islands. The minimum stay is 3 months.

OTHER SIMILAR WILDLIFE PROJECTS